(See)Meet Some of Our Incredible Team
Jul 8th 2021
Jul 8th 2021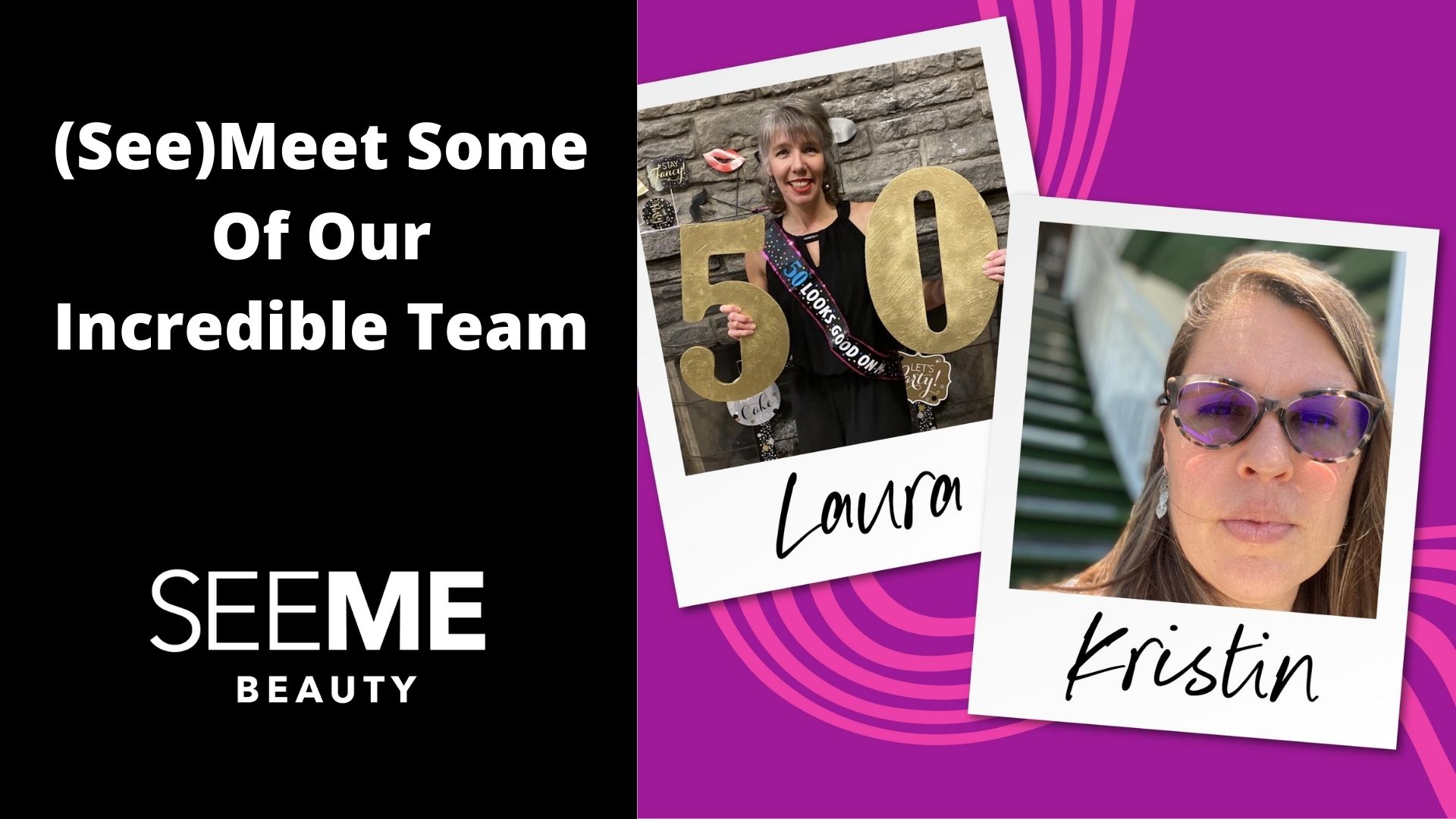 At SeeMe Beauty, we like to celebrate women – all women! So we're going to shine a light on two of our brightest stars – Commercial Lead Laura Lopez and Technical Lead Kristin Waldo! These two are responsible for pretty much everything that goes on from day-to-day here at SeeMe, and we couldn't do it without them!
What did your mom teach you?
"Fortunately, my parents are pretty healthy and all my life, my mom has done 20-30 minutes of daily exercise and promoted healthy eating habits. Hence, I grew up very active and cooking at home, to guarantee we eat healthy and fresh. My mom and I are very close, and she confides a lot in me (what she is thinking, feeling, experiencing), as I am her only daughter. So, I have learned by listening. You know those old relationships where you do not ask a lot of questions, you just listen." –Laura
"My mom is a paradox of beauty and brilliance who is rarely who she appears to be. Both prom queen and a PhD, she is an independent force who was born in Alabama and wears her power under a vail of feminine smiles and plenty of sparkles. She taught me the value of natural beauty, and that taking the time to care for myself inside and out is an amazing gift." –Kristin
How important is your health and how does that translate to taking care of yourself and your family?
"It is really important. On one hand, it is the way I grew up, but I am also very conscious about myself. Probably because back in Colombia, being thin and "looking pretty" was THE way to be. It could sound very trivial, but it had an influence on my self-esteem. My kids grew up eating homemade meals and doing exercise. They needed to choose the sport/activity for that year but doing nothing was not an option.When I was 45, I said, 'I want to be a very healthy/fit person for my 50's' and I believe I am. I will be 52 this December and I lift weights 3x/week, run 2x/week and do bootcamp once a week!" –Laura
"My health is really the driving motivation behind most of how I live my life. Being blessed with what feels like a second chance at life after surviving breast cancer at 42 has taught me to revel in every minute that I am given to love and support the beautiful people in my life, especially my husband and kids. Time is such a gift and nurturing both my body and my skin to keep it healthy for as long as possible is my new mission." –Kristin
What does it mean to you to pursue your passions after age 50?
"I will be 52 in December. I feel very young and my soul is probably younger. I feel like I have so much wisdom to share with the younger generation – so much still to do. My job description changed 360 degrees when we started SeeMe Beauty and I have learned so many new skills to be able to manage this new job. I am so proud of everything I have accomplished in the past 2 years and I know I can do more. There should not be a limit for anybody, the sky is really the limit." –Laura
"Oh goodness, I would say that this time in life is the absolute best time to pursue new passions and focus on being the best me! I feel like I'm at the top of my game with the gift of all of the knowledge, confidence, and humility my life has given me. It may seem counter intuitive but being humbled along the way and making peace with the fact that I'm not really in control of everything is incredibly freeing. It allows me to put everything I've got into my work, my family, and myself without fear of messing it up. Because the cat's out of the bag – I'm going to mess some stuff up and that's ok! Because I will get it right more often than I get it wrong and that is a win." –Kristin
How did you get to SeeMe Beauty?
"I started working with Tiffanie in 2018, understanding the market and the consumer's needs. It was clear that there were very few brands (across industries) that were targeting 45+ and doing a good job at it. Consumer research told us that there was a need, not only on products designed for this target, but there was a lack of understanding on what was happening to women during pre/post menopause and the effects on their skin and hair. We also saw that we were not represented well in advertising. You will see very young or very old people in commercials – it's hard to picture yourself in that scenario. So, Tiffanie, Alexis and Christi put a recommendation together and it got approved. I joined on day one as the commercial leader and have been on this fabulous two-year journey with the team. I have used SeeMe since before we launched it, as we test the formulas on ourselves. I love the products and I have seen a big difference in my skin." –Laura
"Getting to work on SeeMe is a real passion for me. I really think I have the best job in the world, getting to start this new business on the foundation of generations of skincare experience in Procter & Gamble and getting to be with the founders and our amazing team every day is truly enjoyable. These women are so powerful and somehow so fun too!" –Kristin
How has SeeMe empowered you and the other founders of the product?
"Working with SeeMe has shown me that women are capable of incredible things at any age. I have met so many amazing women – our customers, influencers, partners and more who have proven that women can do anything." –Laura
"The chemistry of this team is kind of remarkable and I know that it helps us be more creative and more productive. We do work very hard but the synergy we have allows us to accomplish more together than we would separately. We feel so privileged to be able to create this new brand and we have such big plans for where we want to take it!" –Kristin