SeeMe SOAR: ADVWoman Founder Pat Jacques
Aug 19th 2021
Aug 19th 2021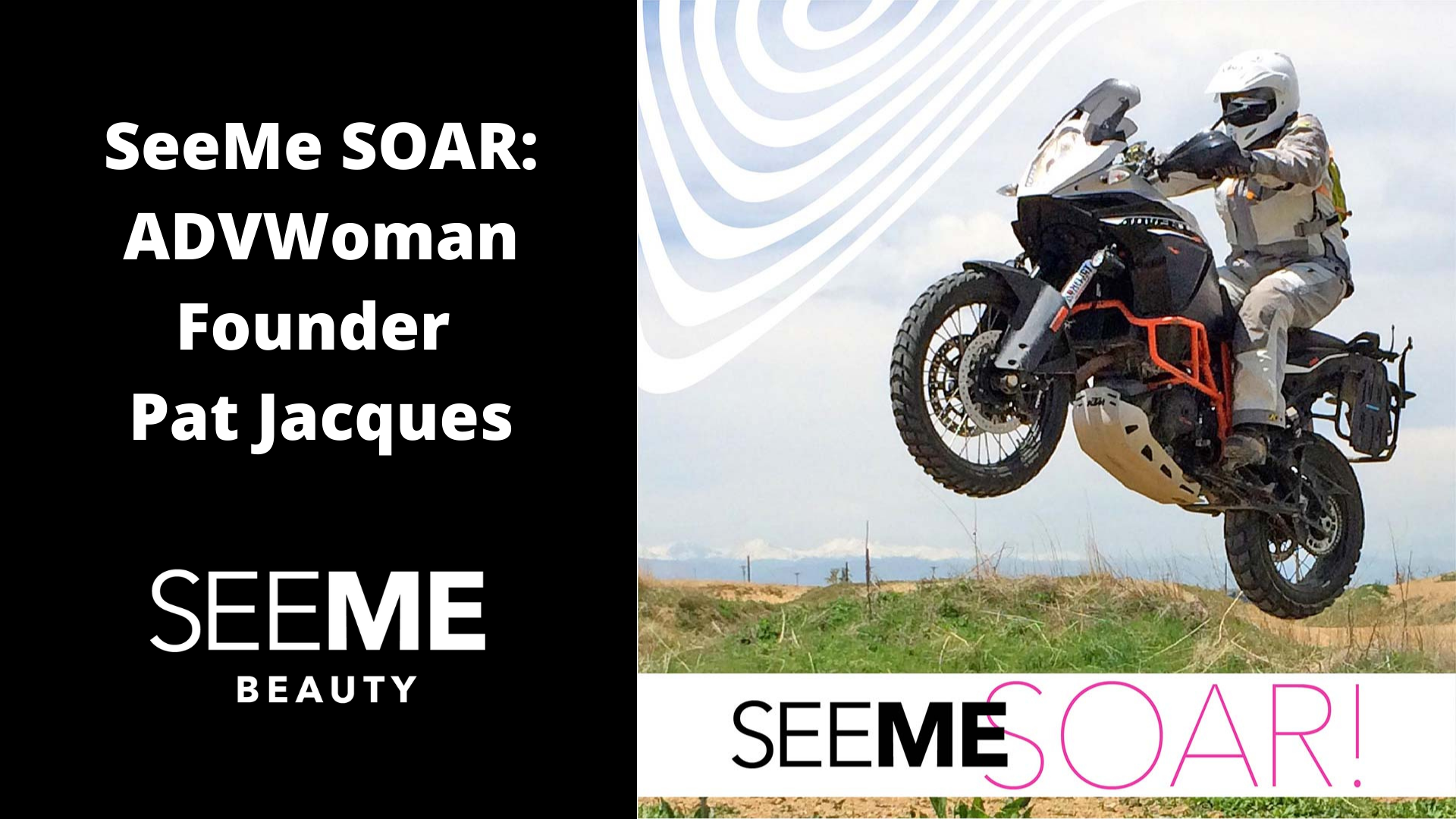 At SeeMe Beauty, we're all about celebrating women "of a certain age," and our latest SeeMe SOAR profile is no exception. It's hard to think of a bada** woman more worthy of celebrating than ADVWoman founder Pat Jacques. Get ready to learn a little but more about coach, speaker, author and general shero as she talks her journey from self-loathing to self-love. Plus, stay tuned as we release our exclusive video series SeeMe SOAR, Hear Me ROAR!
Pat Jacques
Age: 62
What would you consider your words to live by?
"I am enough."
How did you get started riding?
"I was 3 or 4 years old growing up in Germany and there was a world grand prix Motocross event there. There was a gully, and most riders rode down and came up the other side, but a few jumped over it and flew through the air. I knew then and there that's what I wanted to do."
When I was 8 years old, my dad gave my brother and I a minibike for Christmas. When I was eleven, I made the honor roll and when dad asked me what I wanted for a reward – I said motorcycle. I got one before my brother! My dad said we had to work on it ourselves, so I asked my brother to help me with maintenance and I shared the bike with him.
The rest is history – my dad let my brother start racing but said it was too rough for girls. One day we showed up at the races and they had a "powder puff" class. I'm revving my engine and the girls were just sitting there. I lapped the entire racer field and won. My dad started letting me race against the boys. I've only raced against women 7 or 8 times and that's it."
How did that influence you to start ADVWoman?
"What I do now is empower women through off-road motorcycling. I didn't realize that so much of me being competitive was that I had to prove myself. When I would beat other people, it made me feel better about myself. Wasn't very healthy and made me more competitive. A lot of that was driven by poor self-esteem. As I've come into my own and learned to love myself, I'm still competitive but now it's more about wanting to do the best I can regardless of circumstance. It doesn't matter what anyone else does. I may have an off day but I'm ok with that."
What did this change help you to realize?
"I realized as my journey changed –I was trying as hard to be good and fast – I started riding smarter and like I was supposed to ride. I started riding "like a girl" and doing things differently that were appropriate for my body, and I learned new techniques. I've been sharing those with other women so they can ride safely without hurting themselves. It's been a journey from self-loathing to self-love."
What's the number one thing you'd say to women over 50?
"It seems like a lot of people are waiting for perfect circumstances to go after their dreams. My advice is to start where you are, use what you have, do what you can.
I've used that quote a million times with clients and students. You're never going to have the perfect body – something will always be missing or lacking. Waiting for everything to be perfect means you never try anything."
Another thing I'm always saying is 'You make progress. Practice makes progress.'
It's about the power of being positive – letting go of whole idea of judgement of good and bad. When things work, we learn. When they don't work, we learn. We can make better decisions based on that. There's a lot of self-judgement around the idea of 'I should have done this or that' but no, you learned from it."
You call your clients "My Time Women." What does that mean?
"When we're young, we're trying so hard to build and grow. When you get older, and you've experienced challenges and been knocked down a few times you realize that a lot of that doesn't matter.
They've come to a place in life where they've always given to others first and now it's 'my time.' My time to pursue my passions – my time to live my dream."
What motivated you to work with SeeMe Beauty?
The name really got me - women being seen and heard. Women of a certain age- really all women tend to shrink into the background.
Looking at the webpage; seeing the pictures of real women that are drop-dead gorgeous and not photoshopped is just so inspirational. I have sensitive skin and when I started researching, I saw the ingredients and was so impressed. I love the scent and the feel and how it works – everything about it!"