Hormones Happen – Why Motherhood and Menopause Can Trigger Similar Hormone Shifts
May 7th 2021
May 7th 2021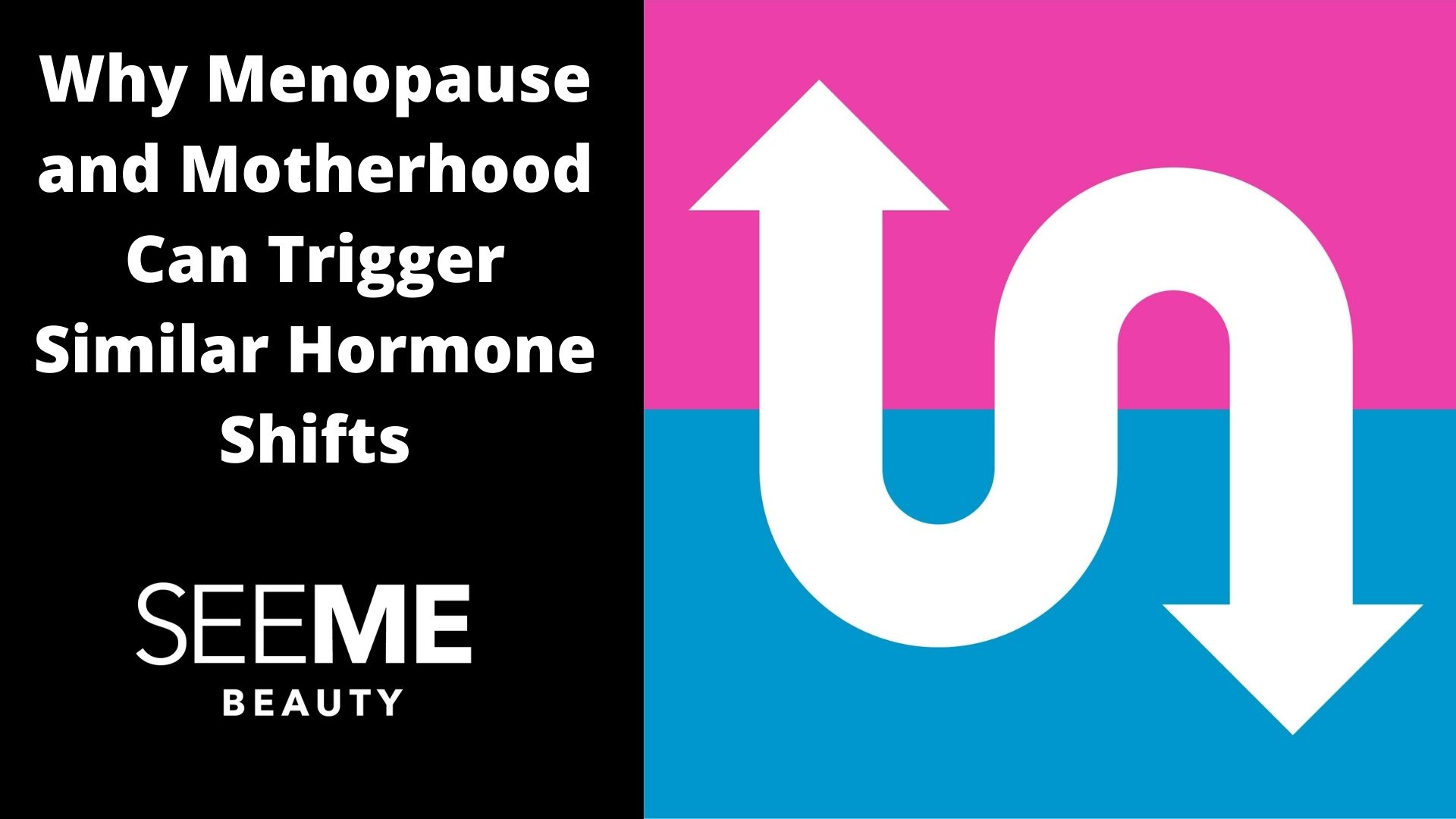 Two of the most stressful periods in a woman's life, pregnancy and menopause, can result in a range of hormonal skin disorders and overall mood changes. Although these two stages of life can be far removed from one another, they both herald a time when hormones are significantly changed from the norm. In fact, Perimenopause symptoms can last up to ten years for some women, and many of them are similar to pregnancy symptoms, including lack of periods, vaginal bleeding or spotting, weight gain, breast tenderness, headache and nausea.
Here are a few similarities between the two phases in life:
| | |
| --- | --- |
| Perimenopause Symptoms | Pregnancy Symptoms |
| Mood Swings | Mood Swings |
| Difficult Sleeping | Missed period |
| Hot Flashes and Nigh Sweats | Nausea or Vomiting |
| Increased Frequency in Urination | Increased Frequency in Urination |
| Low Energy | Low Energy |
| Weight Gain | Weight Gain |
| Breast Tenderness | Breast Tenderness |
But what about your SKIN? Alas, while the rest of menopause and pregnancy symptoms are unfortunately unavoidable, the skin changes can be more easily dealt with.
During pregnancy and menopause, certain hormones go into overdrive and oil glands beneath your skin may produce more oil (sebum). This oil, along with dead skin cells, can become trapped as they flow toward the surface, creating cysts, pimples, and other forms of acne. While this increased sebum is responsible for the dewy "glow" experienced by many expectant mothers, it can also cause some women to experience the worst acne of their lives.
However, not all symptoms are created equal. While those experiencing pregnancy are undergoing massive surges of estrogen and progesterone. With a decrease in estrogen experienced during menopause, the skin's collagen production decreases, resulting in dry and dull skin, as well as reducing the skin's elasticity.
Perhaps the most evident overlap of the symptoms of menopause are those experienced postpartum. While a woman's estrogen levels soar during pregnancy, as soon as the baby is delivered, those levels plummet to a perimenopausal level within 24 hours.
As noted above, perimenopausal women can experience vaginal dryness, fatigue, night sweats, hair loss, irritability, a decreased sex drive and even depression – and the same symptoms are often true for postpartum women . Our bodies seem to replicate these strong physical and emotional symptoms at these two key points in our reproductive stories.