Aww, thanks! A roundup of our latest customer reviews.
May 21st 2021
May 21st 2021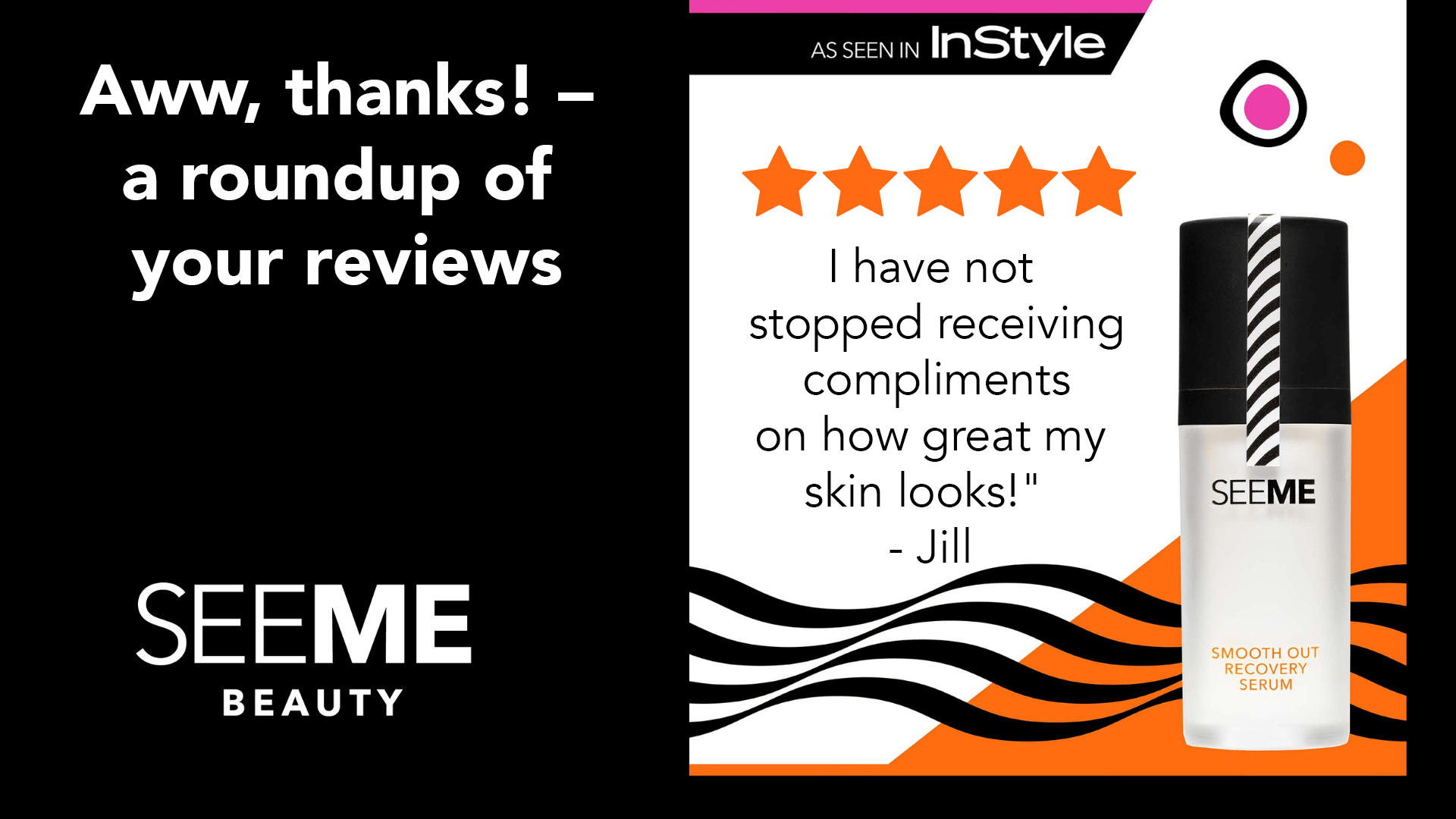 We launched SeeMe Beauty because we wanted "women of a certain age" to feel both seen and heard by the beauty industry. And because of customers like you, we're still going strong! We wanted to take this time to round up some of our favorite reviews from customers just like you! From the bottom of our hearts, THANK YOU.
"I have been using See Me Beauty over six months. I love all the products!!!My skin is so much softer, smoother and more supple. I am so glad I switched."
–Christina
"I got this to smooth the skin around my eyes and it really took down the puffiness I had and also seemed to smooth my eyelids a bit as well. Will buy again!"
–Auws
"I've been using it for over a month and once I got into a routine I felt my skin looked really good. Cream is not heavy and even my friends started noticing that my skin looked better. Yes great quality product for the money."
–Crazy Nanna
"My sensitive dehydrated menopausal skin is finally not dry and pulling by midday. Seriously, if I hated it, I'd say so. Have left scathing reviews for other products that make claims. But THIS ONE works. The scent on both products is good. Kind of minty earthy but I don't mind it. If you're on the fence, try the starter kit, see if your skin likes it as much as mine does!!"
–JLM
"I have only been using the Dynamic Duo for a few weeks, but I love how my skin feels. The serum is silky-smooth and the daytime moisturizer is the perfect weight for my skin. These products have seriously made a difference in a few short weeks!"
–Candace
"Safe to say that 2020 brought changes to everyone. I was no exception. And my skin REALLY got the brunt of it! Starting the year with a move from Maryland to Florida was the start! First years we lived in a house with well water and my skin had grown accustomed to the minerals. The move south to a municipal water system proved to be my first challenge and I initially noticed small breakouts and "tired" looking skin. Then came "maskne". I'm fortunate enough to work from home (even before COVID) but the few outings I went on would leave me with breakouts on my nose and cheeks, REGARDLESS of how vigilant I was with face and mask hygiene! Through all of it I was at the back end of going through menopause and, HELLO!!!!! What a nightmare that was for my skin!!! It seemed like every morning I noticed just how worn out my skin was becoming. I began another (unnamed) product in late spring hoping for some relief, but after 4 months, my skin looked even worse. In autumn I came across See Me and decided to give it a try. Knowing that I'd need to give it a try for at least 3 months, I purchased the Dynamic Duo. I was a little leery at first. The products going on very nicely - no sticky residue. But this was a challenge for me because I tend to have dry skin and have used heavier products in the past. After applying both, my skin feels... well, it feels like SKIN! Not sticky! This took some getting used to and I thought it would ultimately leave my skin to dry out. But after 4 weeks, it was like I had a WHOLE NEW FACE!! My skin is much more supple and with NO breakouts! And no dry patches either. In fact, I had a Zoom call yesterday and a woman on the videoconference actually called me after to ask about my skin care commenting on how beautiful my skin was!!! (I have never in my life, thought I had good skin!) I shared with her that I am (or used to be) an avid wearer of foundation and NEVER went out in public without. Since purchasing SeeMe Dynamic Duo, I haven't felt the need to wear foundation and was really shocked when she paid me the compliment! I have loved the results so much that I recently started using the SeeMe cleanser and so far, really like the results! I would HIGHLY recommend the Dynamic Duo!!"
–Kiki
"I am a 57 y/o woman who, like many others, is battling post-menopausal skin issues. Dry but with noticeably larger pores, especially on my nose. I've spent a ridiculous amount of money on skincare products and wasn't blown away by any of them. Then I bought the trial size duo a couple of months ago and absolutely loved how silky and soft my skin felt after just one use! I recently purchased the large size of both the serum and day cream. I absolutely love how my skin feels after I put it on and if I'm feeling extra dry, the cream mixes well with a couple drops of my face oil. My next purchase is the night cream and eye cream!"
–Barb
Have you been waiting to try SeeMe Beauty?