SeeMe SOAR: Celebrating Women Over 50: Colleen Rosenblum and Bridgett Garratt, Podcast Hosts
Apr 6th 2021
Apr 6th 2021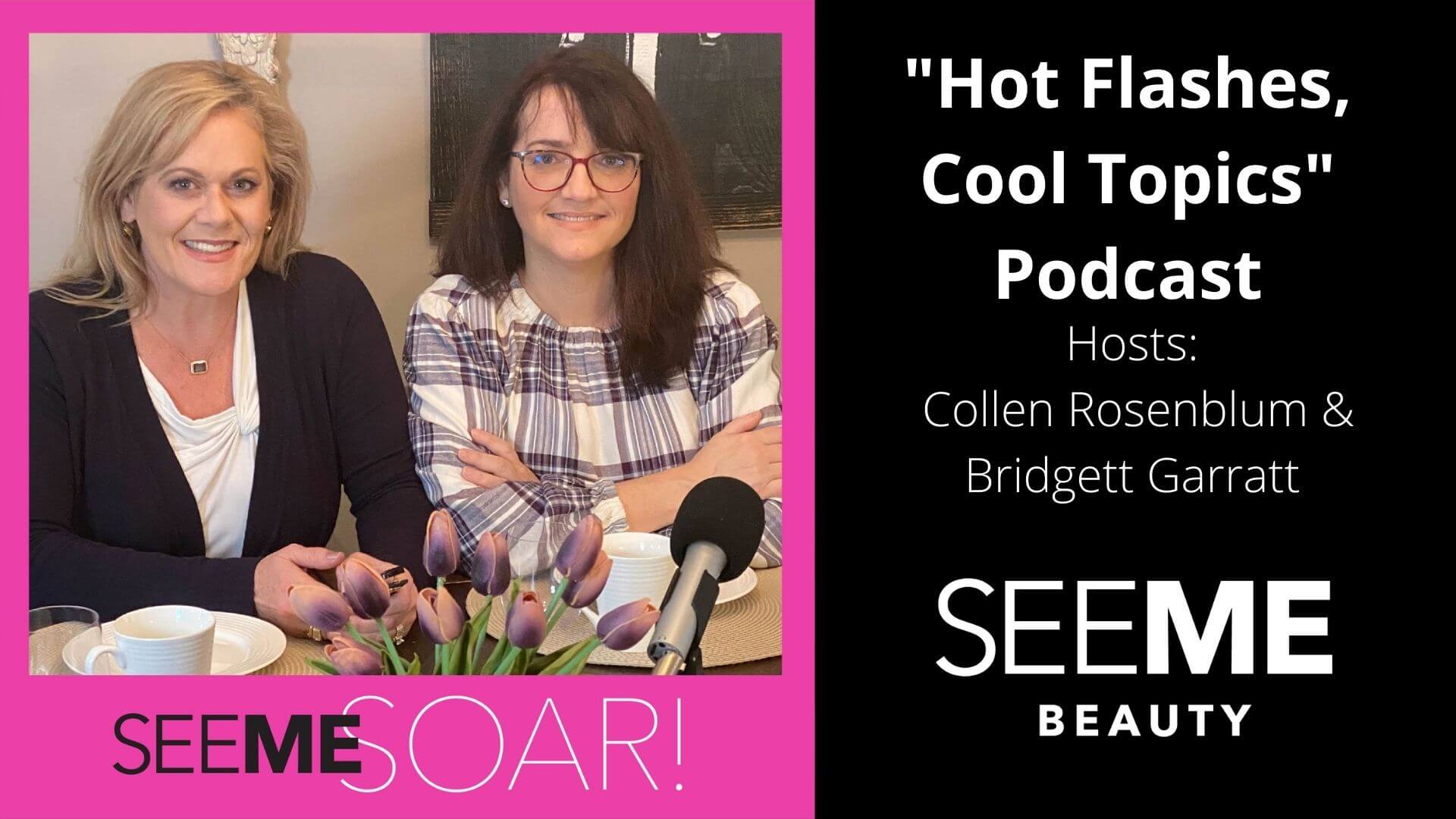 Who says you can't start over after 50? At SeeMe Beauty, we're all about celebrating women "of a certain age," and here's our profile on Hot Flashes and Cool Topics hosts Colleen Rosenblum and Bridgett Garratt, two women who are living proof that you can do anything you put your mind to.
Age: Both 53
Tell us a little bit about your words to live by – both of you said almost the same thing, which is just TRY!
Bridgett: What I've learned lately is that it is never too late to start something.
Some might tell you you're too old to try new things – you're not.
Colleen: At our age, we don't really obsess over the term 'failure.' It's more that you've lived through things you never thought you'd live through – failure is just a life experience. It's not trying and failing; it's trying.
Tell me a little bit about your journey:
Bridgett: This is the third career for both of us. We had lunch one day and started talking about things – aging, working, etc. – and how we weren't being addressed in our demographic. A friend had a podcast on a different subject, and we started from there.
Colleen: We discovered this blank slate for women over 50 and over 40 – media and society don't know what to do with us – we are living longer than ever. What will we do with the next 30 years? We wanted to speak to this audience.
This is our life experience – we discovered the narrative needs to change. We don't want our daughters to have to go through the same learning curve we went through. We're changing the narrative, so that their generation can benefit.
How did it go in the beginning?
Colleen: We had NO idea how to do it. We learned as we went how to record and edit, but most importantly we knew there was an audience.
Bridgett: Thank god for Youtube.
What were those first episodes like?
Bridgett: The first episodes were just Colleen and I talking. We intended people to feel like they were sitting at a table with us chatting.
Colleen: We started by focusing on the invisible woman syndrome – why didn't we matter anymore? But then it grew to include topics like 'what did we do before internet?' to empty nest, skincare over 40 – we realized there were a lot of questions we had and tapped experts – primetime women as we've come to call them.
You've had some great guests – notable names like Carnie Wilson, Gretchen Carlson, Marilu Henner, Jean Chatzky and Joan Lunden, for example. How do you go about finding guests?
Bridgett: First of all – with every big guest, we can't believe we get them. Our strategy is just ask – don't be afraid. Once you get one big one, more will come. Even just the name 'Hot Flashes, Cool Topics – gets us so many guests. We're constantly hearing 'I just felt like I was talking to some friends just now' which is exactly what we're going for. We wanted you to feel like you're just having a cup of coffee or a glass of wine.
Colleen: Honestly, it's kind of surreal. One day you're seeing on zoom – 'Joan Lunden is waiting to be admitted to your meeting.' She and all of our guests are so gracious and kind to take their time and be on the show. So many of them were conscious of taking their time and opening up – Patricia Heaton shared more than ever. Women of our demographic want to have this conversation. We want to get the word out there – getting older is not taboo.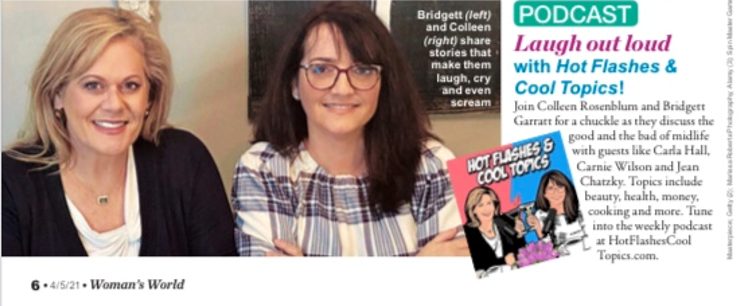 What's the best advice you ever received from a woman in your life?
Bridgett: We just did an interview with Bevy Smith (author of Bevelations) who said – 'It gets greater, later.' That really stuck with me.
Colleen: For me, it's more an action than a word. Watching women who have preceded me break the barriers of the women's rights movements like my mom, who worked from age 16 and never stopped. I watch people and see their tenacity and see their desire for change – it just shows the strength of women.
What are you telling your daughters and listeners about approaching menopause?
Bridgett: I would say that a lot of women think they're too young to be going through menopause – but it can take 8-10 years. My doctor didn't believe me when I said I was experiencing at 46 – they didn't believe me until they did blood work. If you don't like what a doctor is telling you – there are other places to go. You don't have to listen to just that person.
What is it about SeeMe that intrigues you?
Colleen: For us, it's so impressive that SeeMe is one of the few companies addressing women over 40. Our generation is living longer than ever, and they're tired of being taboo.
Finally, what's some advice for women listening?
Bridgett: We always ask our guests 'how are you living this beautiful mid-life and beyond? Did you have to give yourself some grace and passion?' Somebody out there is going to hear it and its going to click – women say things to ourselves we would never say to another human being – we are our own worst critics. So, we tell them that they aren't alone.
Follow them:
https://www.facebook.com/hotflashescooltopics
https://hotflashescooltopics.com
Listen to the Podcast: https://hotflashescooltopics.podbean.com/e/seeme-beauty-skincare-made-just-for-80s-girls/