All You Need Skin Care Kit
Includes full size Cleanser, Serum, Day Cream, Eye Cream & Night Cream
SKU:

UPC:
Free Shipping +
Money Back Guarantee
RESULTS YOU CAN SEE - WHAT PEOPLE ARE SAYING ABOUT SEEME
An All-In-One Skin Care System!
Enhance your skin care routine with the full SeeMe Beauty regimen including of all our products made with the unique SeeMe™ Complex. 1) Gently exfoliate those dull cells to reveal the more radiant you, with your Clean It Up Exfoliating Cleanser, 2) smooth on the Smooth Out Recovery Face Serum with Hyaluronic Acid to deliver our most potent blend of skin care ingredients. 3) Top off the serum with Call Me Hydra-Cream whipped moisturizer face cream to lock in hydration and 4) the For Your Eyes Only Eye Cream powered by two types of Vitamin B to help nourish and visibly firm the delicate skin around your eyes. 5) At night, use the cleanser, serum, the Sweet Dreams Night Cream to give your skin a powerful nighttime boost, locking in hydration and diminishing the look of fine lines on your face and skin, and finish off with the eye cream.
No Parabens. No Sulfates. No Artificial Fragrances.
Don't Worry. Be Radiant!
All You Need Skin Care Kit: Clean It Up Exfoliating Cleanser 125 ml (4.2 Fl.Oz), Smooth Out Recovery Serum 30 ml (1.0 Fl Oz), Call Me Hydra-Cream 48g (1.7 Fl Oz), Sweet Dreams Night Cream 48g (1.7 Fl Oz) & For Your Eyes Only Cream 15g (.5 Oz)
Our serum was voted by Allure as one of the
"Best Skin-Care Products to Use During Menopause."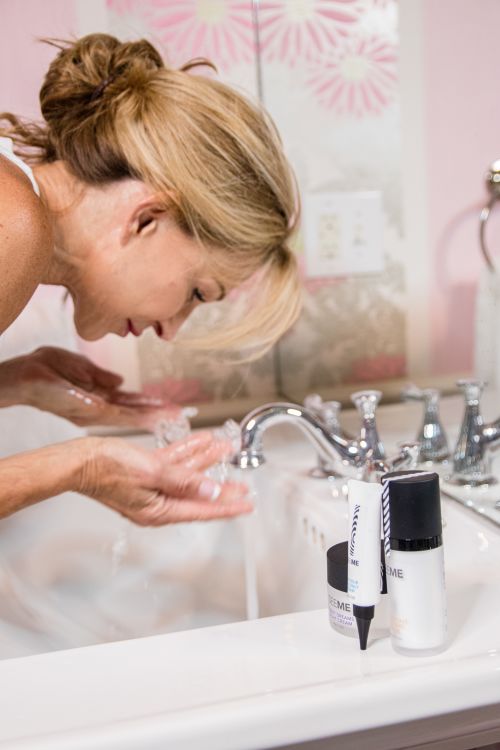 HOW TO USE
For best results, follow these steps.
STEP 1
For best results, use the cleanser morning and evening. Dampen face and dispense a dime-sized amount of cleanser into the palm of your hand. Lather and gently massage onto all areas of your face. Rinse off thoroughly.
STEP 2
Apply two to three pumps of the face serum morning and evening to clean skin. A little goes a long way. After applying the serum, inhale the fresh, aromatherapy-inspired fragrance as the product is absorbed.
STEP 3
Get into the groove of applying the facial cream (call Me Hydra-Cream) in the morning after the serum. Apply a dime sized amount of cream to face, neck, and chest.
STEP 4
Use the eye cream morning and evening, applying a small amount to your fingertip and dabbing gently on eyelids and under eyes. Massage gently until thoroughly absorbed.
STEP 5
Every night before bedtime and after your evening application of serum has been absorbed, apply a dime size amount of the night cream to your face, neck and chest. Enjoy the lavender scent as you wind down your day.
As with all skin care products, avoid direct contact with eyes. If contact occurs, rinse with water.
Meet our Fab Five!
Artichoke leaf extract, Avocado, Dill, Turmeric, and Vitamin B3
These exceptional ingredients combine to generate the extraordinary powerhouse of our unique SeeMe Complex™, to tackle the causes of accelerated aging in estrogen-depleted skin. The result: deep hydration, improved texture, and a brighter, more visibly even-toned complexion.
Clean It Up Exfoliating Cleanser
| Ingredients | Description |
| --- | --- |
| WATER | Purified Water |
| SODIUM COCOYL ISETHIONATE | Cleaning Agent |
| LAURAMIDOPROPYL BETAINE | Cleaning Agent |
| GLYCERIN | Skin Moisturizer |
| ACRYLATES COPOLYMER | Thickener |
| HYDROXYETHYLCELLULOSE | Cellulose based thickener |
| SALICYLIC ACID | Beta Hydroxy Acid |
| LAVANDULA ANGUSTIFOLIA (LAVENDER) OIL | Lavender Oil |
| CITRUS LIMON (LEMON) PEEL OIL | Lemon Peel Oil |
| CURCUMA LONGA (TURMERIC) ROOT EXTRACT | Turmeric Extract |
Other Ingredients:
XANTHAN GUM, SODIUM BENZOATE, SODIUM HYDROXIDE, CITRIC ACID, DISODIUM EDTA
Smooth Out Recovery Serum
| Ingredients | Description |
| --- | --- |
| WATER | Purified Water |
| GLYCERIN | Skin Moisturizer |
| NIACINAMIDE | Vitamin B3 |
| TAPIOCA STARCH | Tapioca Starch |
| PERSEA GRATISSIMA (AVOCADO) OIL | Avocado Oil |
| CAPRYLIC/CAPRIC TRIGLYCERIDE | Oil Made from Coconuts |
| DIMETHICONE | Skin Conditioner |
| SODIUM HYALURONATE | Hyaluronic Acid |
| CYNARA SCOLYMUS (ARTICHOKE) LEAF EXTRACT | Artichoke Leaf Extract |
| CURCUMA LONGA (TURMERIC) ROOT EXTRACT | Turmeric Extract |
| LAVANDULA ANGUSTIFOLIA (LAVENDER) OIL | Lavender Oil |
| CITRUS LIMON (LEMON) PEEL OIL | Lemon Peel Oil |
| PEUCEDANUM GRAVEOLENS (DILL) EXTRACT | Dill Extract |
Other Ingredients:
HYDROXYETHYLCELLULOSE, CAPRYLYL GLYCOL, ACRYLATES/VINYL ISODECANOATE CROSS POLYMER, 1,2-HEXANDIOL, PHENOXYETHANOL, DIMETHICONE CROSSPOLYMER, DISODIUM EDTA
Call Me Hydra-Cream
| Ingredients | Description |
| --- | --- |
| WATER | Purified Water |
| GLYCERIN | Skin Moisturizer |
| NIACINAMIDE | Vitamin B3 |
| TAPIOCA STARCH | Tapioca Starch |
| PERSEA GRATISSIMA (AVOCADO) OIL | Avocado Oil |
| CAPRYLIC/CAPRIC TRIGLYCERIDE | Oil Made from Coconuts |
| STEARYL ALCOHOL | Stearyl Alcohol |
| CYNARA SCOLYMUS (ARTICHOKE) LEAF EXTRACT | Artichoke Leaf Extract |
| CURCUMA LONGA (TURMERIC) ROOT EXTRACT | Turmeric Extract |
| PEUCEDANUM GRAVEOLENS (DILL) EXTRACT | Dill Extract |
| LAVANDULA ANGUSTIFOLIA (LAVENDER) OIL | Lavender Oil |
| CITRUS LIMON (LEMON) PEEL OIL | Lemon Peel Oil |
Other Ingredients:
DIMETHICONE, CETYL ALCOHOL, SODIUM POLYACRYLATE STARCH, BEHENYL ALCOHOL, CAPRYLYL GLYCOL, 1,2-HEXANEDIOL, PHENOXYETHANOL, DIMETHICONOL, PEG-100 STEARATE, CETEARYL GLUCOSIDE, CETEARYL ALCOHOL, STEARIC ACID, PALMITIC ACID, DISODIUM EDTA
For Your Eyes Only Cream
| Ingredients | Description |
| --- | --- |
| WATER | Purified Water |
| TAPIOCA STARCH | Tapioca Starch |
| GLYCERIN | Skin Moisturizer |
| NIACINAMIDE | Vitamin B3 |
| PERSEA GRATISSIMA (AVOCADO) OIL | Avocado Oil |
| CAPRYLIC/CAPRIC TRIGLYCERIDE | Oil Made from Coconuts |
| PALMITIC ACID | Emollient |
| STEARIC ACID | Emollient |
| CETYL ALCOHOL | Emollient |
| PANTHENOL | Vitamin B5 |
| CYNARA SCOLYMUS (ARTICHOKE) LEAF EXTRACT | Artichoke Leaf Extract |
| CURCUMA LONGA (TURMERIC) ROOT EXTRACT | Turmeric Extract |
| PEUCEDANUM GRAVEOLENS (DILL) EXTRACT | Dill Extract |
Other Ingredients:
ACRYLATES/VINYL ISODECANOATE CROSSPOLYMER, DIMETHICONE, DIMETHICONOL, CETEARYL GLUCOSIDE, CETEARYL ALCOHOL, PEG-100 STEARATE, 1,2-HEXANDIOL, CAPRYLYL GLYCOL, AMINOMETHYL PROPANOL, PHENOXYETHANOL, DISODIUM EDTA
Sweet Dreams Night Cream
| Ingredients | Description |
| --- | --- |
| WATER | Purified Water |
| GLYCERIN | Skin Moisturizer |
| NIACINAMIDE | Vitamin B3 |
| CETEARYL ALCOHOL | Emollient |
| TAPIOCA STARCH | Tapioca Starch |
| PERSEA GRATISSIMA (AVOCADO) OIL | Avocado Oil |
| CAPRYLIC/CAPRIC TRIGLYCERIDE | Oil Made from Coconuts |
| BUTYLENE GLYCOL | Skin Conditioner |
| PALMITIC ACID | Emollient |
| STEARIC ACID | Emollient |
| SODIUM HYALURONATE | Hyaluronic Acid |
| CYNARA SCOLYMUS (ARTICHOKE) LEAF EXTRACT | Artichoke Leaf Extract |
| CURCUMA LONGA (TURMERIC) ROOT EXTRACT | Turmeric Extract |
| LAVANDULA ANGUSTIFOLIA (LAVENDER) OIL | Lavender Oil |
| CITRUS LIMON (LEMON) PEEL OIL | Lemon Peel Oil |
| PEUCEDANUM GRAVEOLENS (DILL) EXTRACT | Dill Extract |
| PANTHENOL | Vitamin B5 |
Other Ingredients:
DIMETHICONE, SODIUM POLYCRYLATE STARCH, 1,2-HEXANDIOL, CAPRYLYL GLYCOL, PHENOXYETHANOL, DIMETHICONOL, CETEARYL GLUCOSIDE, PEG-100 STEARATE, DISODIUM EDTA